The Bradwell Wildflower Group came into being in early 2021 when a small group of residents of the village approached the Parish Council seeking support for a project to add small wildflower sections to existing land either managed directly by the council or by Derbyshire Dales District Council.
After discussion by the Parish Council, there was majority agreement to support the project and to enable it with a small seed fund secured via an S137 funding grant. The Bradwell Wildflower Group project then took shape under the wing of the Hope Valley Green Ventures organisation which provided it with a bank account, indemnity insurance, and advice on seeking the small amount of additional funding required.
The Bradwell Wildflower Group have been allocated 5 separate, discreet sites across central, ie widely accessible, areas in the village (with the approval of the Parish Council) to monitor, maintain and establish wildflowers.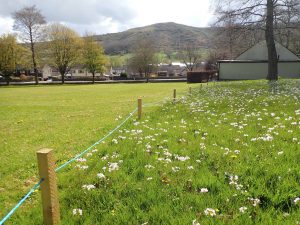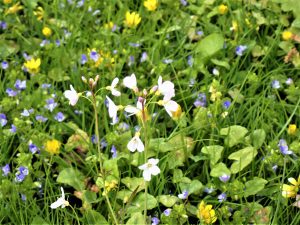 Aims and Objectives:
• To make our village more colourful and wildlife friendly and thus improve biodiversity;
• To raise awareness and understanding of the value of native wildflowers to our village and the rest of the natural world;
• To provide the opportunity to share identification skills for wildflowers and wildlife and to enrich lives;
• To enthuse and encourage as many people as possible to take part in growing and planting wildflowers from locally sourced seed.
The Bradwell Wildflower Project members are feeling extremely positive about the project to date. This is as a result of the strong support shown by the village, both directly by attending talks & walks and indirectly by passers by, social media posts and other channels. Further to this, the engagement of the Infant and Junior schools, the other village groups, other valley parishes, DDDC and the national conversation in general have reinforced the sense that we are, as a village, on the right track in this area, and we are not only developing a strong sense of community involvement with the project, but also presenting a forward thinking and engaged sense of the village, its residents and the Parish Council to the world at large.
We are involving local people in sowing local seeds and raising plants by:
• organising seed collection activities for adults
• providing growing materials and advice on raising seeds for future planting out on the sites
• encouraging local children to take an interest in sowing seeds and raising wildflower plants through contact with local schools and the cooperation of the Plant Exchange scheme in the village
• providing an opportunity to adults and children visiting Bradwell Carnival to plant seeds to cultivate at home
We are always on the look out for more volunteers to assist in the on-going maintenance of the sites, so if you can help out in any way, please contact us via Facebook.