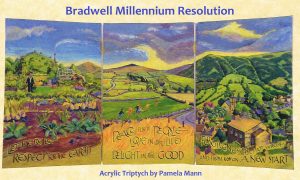 by Pamela Mann and Juliet Berry
Bradwell Historical Society was formed in 1994 to encourage local people to become involved in the history of the village and the area, and to build up a local archive.  However, the Society does not confine its activities to this and has welcomed speakers on a wide range of historical topics.  They meet on the third Tuesday evening of every month at 8.00 pm in the Methodist Hall, Towngate.  The varied programme includes illustrated lectures given by visiting speakers or by members of the Society with a specialist interest or who have researched a particular topic.  The Society also arranges reciprocal village tours with other local history groups, and daytime visits to a range of venues of historical interest. In the recent past these have included visits to Bugsworth Basin, Cresswell Crags, and the Holocaust Museum at Laxton.
In 2006 the Society was awarded a grant by the "Local Heritage Initiative" and a large group, including non-members, began producing an illustrated history of Bradwell in the 20th century, plus material for use in schools.  In August 2008 the Society published 'After Seth. Bradwell into the 21st Century'. A 272 page account of life in the village over the last 100 years.  It is generously illustrated and has 20 pages of index including many local family references.  It is on sale at Bradwell PO and local bookshops at £10 per copy or by post from the society at £12.50 (UK) or plus postage (overseas). Contact – stevelawless or telephone 01433620329 or 01433621865.
To contact the Historical Society by e-mail please use [email protected]
The Society currently has in hand a number of projects, some of which have arisen from the 'Local heritage Initiative'. The projects currently running are as follows:
Production of a DVD containing newspaper cuttings about Bradwell between 1883 and 1951, collected by Cyril Evans. The DVD is now available and costs £5. Contact Andy Smith (phone 01433 620100).
The Society has accumulated a large range of artefacts relating to Bradwell life (books, photographs, pamphlets, local wills etc) and has a project in hand to catalogue these items and place them in the Archive. A group of members meet on a Saturday morning on a monthly basis from 10.00 to 12.00 in the Methodist Hall.
Collecting together information about all the Bradwell people who served in two World Wars, most especially the history of the men who died in the two great conflicts. This will lead to the production of a pamphlet.
An important project currently being coordinated by Andy Smith is called 'The House I Live In'. Information is being gathering about who has lived where in Bradwell over the years. Information collected, written, oral and photographic is being attached, house-by-house to a map of the village.
The Society has approximately 40 members and the annual subscription is £10. Everyone is welcome to join and there are no age limits.
Visitors may attend up to three of the Society's talks on payment of a fee of £5 for each talk but thereafter are expected to become full members
2021 Programme – DUE TO THE COVID EMERGENCY THE SOCIETY MEETINGS WILL TAKE PLACE BY ZOOM FOR THE FIRST HALF OF THE YEAR
19th January
AGM (by Zoom)
16th February
The History of Astrophotography – Paul Downing (by Zoom)
16th March
Peak District in the mid 1950's – Tim Knebel (by Zoom)
20th April
A Barber Family of Bradwell – Brian Gillham (by Zoom)
18th May
Transport Pioneers in and Around Derbyshire – Paul Hadley (by Zoom)
15th June
1912: The Year the World Discovered Antarctica – Andy Smith (by Zoom)
20th July
No Meeting
17th August
No Meeting
21st September
Masters of Mirth – Mike Storr
19th October
The Snake Pass – Louise Vincent
16th November
The History of Advertising – Gordon Scott
21st December
Christmas Meal